PUSHKIN
As the bicentenary of the birth of Alexander Segeevich Pushkin arrives in 1999, a discerning biography with exciting new material, has been published by the poet and novelist ELAINE FEINSTEIN (Weidenfeld and Nicholson, £20). This reveals a man of reckless ebullience and ready wit whose unruly behaviour concealed an enduring loneliness.
Elaine Feinstein was made a Fellow of the Royal Society of Literature in 1980 , and received a Cholmondeley Award for Poetry in 1990. Her versions of the poems of Marina Tsvetaeva remain in print after more than 25 years. Lady Antonia Fraser described Elaine Feinstein's biography of Tsvetaeva, as 'the most inspiring biography I have read this year'.
REVIEWS OF ELAINE FEINSTEIN'S 'PUSHKIN'
'Elaine Feinstein's precise, cool biography will make a good introduction to his extraordinary life and work.' D.M.Thomas, SUNDAY TELEGRAPH
'It was a sad conclusion to a brilliant, embattled life, and however tiresome and obstreperous the young Pushkin may have been, by the time one reaches the end of Elaine Feinstein's biography, one's sympathies are all on his side.' Jeremy Lewis, THE EXPRESS
'In presenting these paradoxes, Feinstein has produced an impressively rounded and compelling portrait of one of literature's great figures.' William Scammel THE SPECTATOR
'Ms Feinstein is particularly strong on Pushkin's luminous use of Russian for readers who are forced to read opaque translations....a balanced, intelligent biography.' THE ECONOMIST
'Feinstein has uncovered new material surrounding Pushkin's death, and being a poet herself, she gives a sensitive appraisal of both the verse and the prose.' LITERARY REVIEW
Elaine Feinstein's 'Pushkin', Weidenfield & Nicolson, 20
COPIES OF PUSHKIN MAY BE OBTAINED FROM MOST BOOKSHOPS OR ORDERED DIRECT FROM:
Littlehampton Book Services
Telephone: 01903 828200
Fax 01903 828802
email: orders@lbsltd.co.uk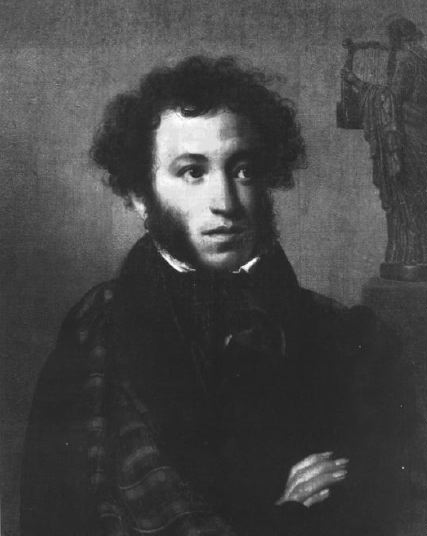 Pushkin, at just five feet tall and, in his own words, with 'a proper monkey's face'
Bridgeman Art Library
Available here is an article about Pushkin from The Independent, 26 November 1998.